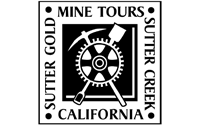 If your only mining experience is watching the Seven Dwarves in Snow White, it might be time for you to witness the real thing. The Sutter Gold Mine tour focuses on educating people about life inside a mine, the safety issues involved, and what the earth looks like so far underground.
Safety is a priority right from the beginning. The guide counts everyone and "tags them in" by placing a metal tag over a number so everyone will be accounted for at the end of the tour. Then everyone is fitted with hard hats, an accessory you must wear throughout the tour.
A bus buggy shuttle, used in real mines, carries you to the entrance of the mine. The entrance is cut into the rocky hillside, framed by a metal gate and metal pipes. You'll hear a loud noise, which is the ventilation fan. Beyond the first 30 feet, the mine is pitch black.
As you tunnel down the mineshaft, you'll stop four times to view mining equipment exhibits. After traveling 1,850 feet down, you'll enter the safety chamber. The guide will tell you how the safety chamber works and will explain the map of the Motherlode. Next, you'll walk through the "comet zone," where gold-bearing quartz was extracted. Up some stairs and through a tunnel you'll see more mining displays depicting mining activity and see the drills that are used to extract ore. There are still places where gold can be seen in the walls of the mine, and you'll learn how to distinguish real gold from fool's gold.
You'll board the bus buggy shuttle to come back out of the mine, where you'll turn in your hard hat and be tagged out before going back above ground.
Be sure to save some time after the tour to pan for gold and do some gemstone mining.
Cost: Adults, $14.95; children, $9.95. Gold panning, $5 each; gemstone mining, $4.50 small bag, $6.95 large bag.
Freebies: No
Video/DVD Shown: Free movies about gold mining shown in the Gold Theater.
Reservations Needed: No, but groups of 10 or more should call ahead to make sure there will be space on a tour for them. School groups should also call ahead.
Days and Hours: Mid-May–mid-September: daily 9:00 am–5:00 pm. Mid-September–mid-May: weekdays 10:00 am–4:00 pm, weekends and holidays 10:00 am–5:00 pm.
Plan to Stay: One hour for walking tour; up to all day for above-ground activities.
Minimum Age: 3 for underground tour, but recommended for 4 or older. No minimum age for above-ground activities. Disabled Access: Yes, with advance notice.
Group Requirements: School groups and groups of 10 or more should call ahead. Group discounts available. Maximum of 23 persons on each tour, although larger groups can be accommodated; no minimum.
Special Information: Hard hats must be worn underground. Tour not recommended for people who are claustrophobic or have serious heart or lung problems.
Gold Store: Sells handmade gold nugget jewelry, books about the gold rush and gold mining, science activities, and lots of rocks. Open same hours as mine.
Directions: From Sacramento, take Hwy. 16 East to Hwy. 49 South. Look for entrance on the left approx. half a mile south of Amador City, just north of Sutter Creek. From the Bay Area, take U.S. 50 East to I-205 to Hwy. 120 East to Hwy. 99 North. Take Hwy. 88 East to Hwy. 49 North. Look for entrance on the right approximately 1 mile north of Sutter Creek.
Nearby Attractions: Black Chasm Cavern National Natural Landmark, California Cavern State Historic Landmark, Moaning Cavern, Kennedy Gold Mine, Indian Grinding Rock State Historic Park, The Miners Pick Antiques & Western Hardrock Mining Museum.