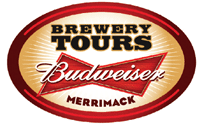 One of every two beers consumed in America is made by Anheuser-Busch, with this brewery serving all of New England. Of Anheuser-Busch's 12 U.S. breweries, this brewery is in the prettiest setting, located in the picturesque Merrimack Valley. It can package 8 million 12-ounce servings in 24 hours.
Your tour guide will lead you to the brewery, built in 1970, past a life-size replica of a Clydesdale horse. In the brewhouse, a mixture of water and rice or corn fills three stainless-steel mash tanks. Malt enzymes break the starch in the corn or rice into fermentable sugars. Once strained, the remaining liquid ("wort") is boiled and hops are added. After cooling, the liquid is pumped into 45°F fermentation cellars. On the ground floor of this four-story cellar, you may see a worker place a layer of beechwood chips in the stainless-steel tanks. These chips provide a surface area on which yeast settles during secondary fermentation.
On your way to the packaging area, notice the eight-foot carved mahogany mural of the Anheuser-Busch corporate trademark. Through glass windows, watch the tightly woven maze of filling lines. Once rinsed, bottles proceed to the rotating bottle-filler. They then speed through capping and labeling to packaging. After the brewery tour, don't miss the Old World–style Clydesdale Hamlet, modeled after an 18th-century German Bauernhof. This stable and courtyard are home base for the traveling East Coast Clydesdale eight-horse show hitch. This close-up look at the Budweiser Clydesdales (special photo opportunities first Saturday of each month) is a highlight of the tour.
Cost: Free
Freebies: Beer, soda, and snacks.
Video/DVD Shown: If packaging line isn't operating, 2 6-minute films show packaging and brewing processes. Reservations Needed: No, except for groups larger than 15.
Days and Hours: January – May: Thur – Mon 10:00 AM – 5:00 PM; June – August: Every Day 10:00 AM – 6:00 PM; September – December: Every Day 10:00 AM – 5:00 PM. Call to see if bottling on weekends or holidays. Generally closed day before and day of Thanksgiving, Christmas, and New Year's.
Plan to Stay: 1.5 hours for tour, hospitality room, and Clydesdale Hamlet, plus time for shopping and tour assembly room displays.
Minimum Age: Under age 18 must be accompanied by adult.
Disabled Access: Yes
Group Requirements: Groups larger than 15 should call 1 day in advance. Groups of more than 35 people will be split into smaller groups. No maximum group size.
Special Information: Photography is permitted inside brewery. First Saturday of each month is Budweiser Clydesdale Camera Day (1:00–3:00 pm), when you can pose with one of the Clydesdale horses. Tour includes indoor and outdoor walking and some stairs. See page 284 for St. Louis, MO, feature and information about other Anheuser-Busch brewery tours.
Gift Shop: Tour Center Store sells logoed items, including T-shirts, bathing suits, steins, and jackets. Closes 1 hour later than tours.
Directions: From Boston, take I-93 North to I-495 South to Rt. 3 North. In New Hampshire, Rt. 3 becomes Everett Tnpk. Get off at Exit 10. At end of ramp, go right. At the next set of lights, turn left onto Daniel Webster Hwy. At the next traffic light, turn right into the brewery. Park in second lot on right. From Rt. 101, take Everett Tnpk. South to Exit 10 in Merrimack. At end of ramp, turn left. At the second set of lights, turn left onto Daniel Webster Hwy. Follow to next traffic light and turn right into brewery.
Nearby Attractions: American Textile History Museum (see page 65); Currier Gallery of Art (call 603-669-6144); New England Quilt Museum (call 978-452-4207).