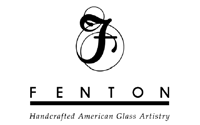 In western West Virginia—rich in mountains, sand, and natural gas—the art and traditions of glassmaking are kept alive by a handful of artisans and factories. Fenton Art Glass began in 1905, when two Fenton brothers pooled $284 to start their business. Now in its fourth generation of family ownership and management, Fenton Art Glass continues this art in the U.S.A. The tour takes you from the extreme heat and speed of the glassmaking shops to the decorating area's exacting calm.
After a brief chemistry lesson (sand is the main ingredient in glass), follow your guide onto the glassmaking shop floor. Gatherers and carriers can be seen with gobs of red-hot glass, handles, and newly blown or pressed pieces. Each worker, trained by apprenticeship, has a specific function in the team effort of creating each item. To produce a bowl, the "gatherer" rolls the long pole (punty) inside the 2,200°F furnace to gather a gob of glass, which is dropped into a bowl-shaped mold. The presser, one of the most experienced craftsmen in the shop, lowers a lever with exacting pressure, forcing molten glass into a decorative bowl.
Downstairs in the decorating area, fresh-air-masked artisans paint crushed 22-karat gold onto glass items of all kinds. Elsewhere in the decorating area, artists paint designs on glass using crushed-glass pigments. When applying floral designs, an artist first paints the blossoms on a dozen pieces, returning later to add leaves and stems. You gain an appreciation for the steps involved in producing tomorrow's heirlooms.
Cost: Free
Freebies: Brochure on glassmaking.
Video/DVD Shown: "Experience Fenton," 22-minute video in Museum Theater, covers the basics of glass production, company history, and hand carving of cast-iron molds.
Reservations Needed: No, except for groups larger than 20 people.
Days and Hours: Mon–Fri starting at 8:15 am. Approximately nine 35–40 minute tours offered, except on major holidays. Limited factory tours for two weeks starting late June or early July. Call (800) 319-7793 or visit www.fentongiftshop.com for exact tour times.
Plan to Stay: 2 hours, including tour, video, and museum, plus time for gift shop. Museum emphasizes a century of Fenton Glass (1905–2005) and historic Ohio Valley glass. Museum has same hours as gift shop.
Minimum Age: 2. Supervise children carefully, since you get very close to the hot glass.
Disabled Access: Blowing/pressing area, gift shop, and museum are accessible. Stairs to decorating department.
Group Requirements: Groups of 20 or more need advance reservations.
Special Information: Wear closed-toe, thick-soled shoes. Glassblowing area is well ventilated but hot during summer. Watch where you walk.
Gift Shop and Factory Outlet: Sells Fenton's first-quality line at suggested retail, as well as retired, first-quality, and preferred seconds at reduced prices. Also carries other fine gift and home décor items. Museum sells glassmaking history books. Annual February Gift Shop Sale and Summer Tent Sale. Open Mon–Sat 8:00 am– 5:00 pm, Sun 12:00 pm–5:00 pm. Additional hours April–December: Mon–Fri open until 8:00 pm. Closed New Year's, Easter, Thanksgiving, and Christmas. Catalog available through telephone or website.
Directions: From I-77, take Exit 185; follow black-and-white signs to gift shop. From Rt. 50, take I-77 North. Follow directions above.
Nearby Attractions: Lee Middleton Original Doll factory tour (see page 199); Blennerhassett Island; Historic Marietta, OH, across Ohio River.